The Barn Swallow, the most common swallow in Japan, migrates from South East Asia to Japan every March. The Swallow uses man-made structure to breed from April to late July. After the breeding period, they make a large flock and fly back to their roost in a reed bed at sunset. Watching the roosting flock of Barn Swallows, called "Roosting Swallow Watching", is a regular summer event for many birding clubs in Japan. And we just had our Roosting Swallow Watching on August-5-2018.
We got together at a park with a reed bed at 6:00 pm. The sunset time of the day was 6:52 pm and the swallow roosting usually begins 15-20 minutes before sunset. So we had a small lecture about the Barn Swallow for participants before the roosting began.
Here is a photo of the speaker, putting on a swallow headband with a picture card.
(The center person, putting on the swallow headband, is the club director, Niiomi-san)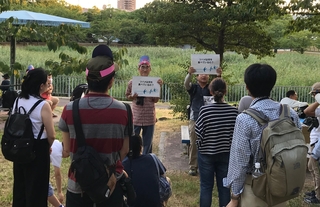 Around 6:30 pm, a couple of swallows arrived on the sky and flied about on the reed bed. Now the swallow roosting began. Sitting on the lawn, we watched and enjoyed it.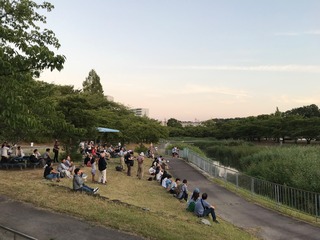 Gradually, the number of swallows increased, and the swallow roosting climaxed around 6:50 pm.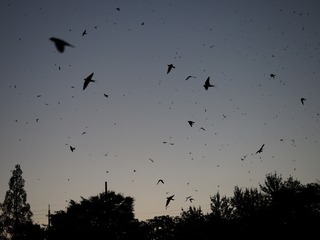 (Photo by Murakami-san)
Thousands of swallows flied around and dived into the reedbed one after another.
The only word we could say in this climax scene was "Incredible!".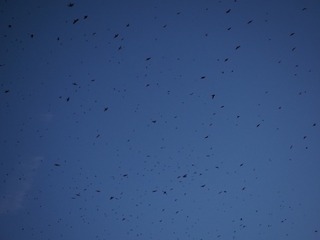 (Photo by Murakami-san)
After the climax, the number of roosting swallows gradually decreased, then the swallows in the reedbed became quiet around 7:30 pm.
(Photo by Murakami-san)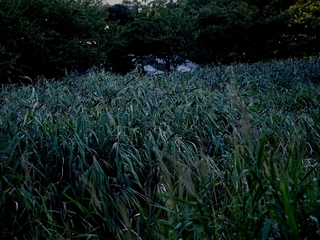 This amazing swallow show can be seen during mid-summer, and gradually cannot be seen as summer is gone. And then, when their figure completely disappear, we feel autumn is coming in Japan.
T.N